Brief Introduction of National Cheng Kung University
Since the inception of Taiwan's Ministry of Education's (MOE) project "Promoting Academic Excellence and Developing World Class Research Centers" in 2005, National Cheng Kung University (NCKU) and National Taiwan University (NTU) have been chosen as the top two main schools for "promoting toptier universities". In 2008, the Ministry of Education has once again recognized NCKU and NTU as one of the best universities in southern and northern Taiwan respectively.
About NCKU Medical College
The NCKU Medical College and its affiliated hospital were opened in 1984. Until now, it consists of five departments and fifteen institutes with the Department of Medicine being the largest. The undergraduate core curriculum includes courses from each of the five departments. Fifteen science programs are offered at a masters level. Ph.D. degrees are available in the following Institutes: Allied Health Science, Basic Medical Sciences, Biopharmaceutical Science, Clinical Medicine, and Environmental and Occupational Health. The College boasts the highest faculty-to-student ratio among the eleven medical colleges in Taiwan, emphasizing the care and precision placed on education by NCKU Medical College.

Each new class of students brings diverse interests to the community, and the medical college embraces the variety by promoting education and activities in the humanities. Students experience the freedom to explore talents in theater or participate in elaborate productions with the Cheng-Sing Chorus. In addition, the College sends students overseas to the United States, Europe and Asia, thereby supporting the collaborative exchange of ideas and expertise across international borders. By encouraging humanities, the medical college presents students with invaluable opportunities to absorb individual experiences in various activities to find future application in real life interactions with others.
NCKU Hospital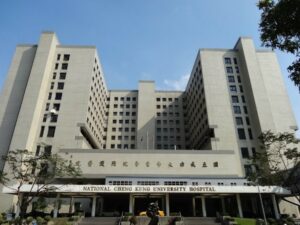 The NCKU Hospital is the largest health care center in Tainan, with approximately 1,212 beds and providing health care services for more than 90,000 monthly patient visits. The hospital's mission is to provide medical care to the community, provide clinical training and internship, and to promote medical research and development.